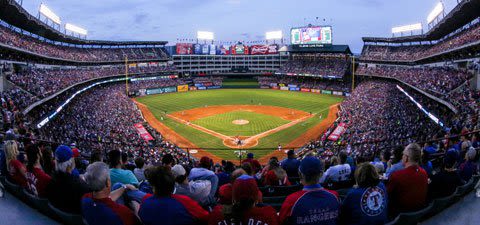 Chad West, PLLC teams up with the Texas Rangers for the 2016 baseball season!
March 24, 2016
WE HAVE EXCITING NEWS! THE TEXAS RANGERS ARE TEAMING UP WITH CHAD WEST, PLLC TO HELP YOU GET LIVE GAME DAY ACTION.
CHAD WEST, PLLC EMPLOYEES, FAMILY, AND FRIENDS ARE INVITED TO TAKE ADVANTAGE OF DISCOUNTED TICKETS IN ONE OF SEVEN POSSIBLE SEATING AREAS. * COME JOIN YOUR TEXAS RANGERS FOR ANIGHT OF GREAT BASEBALL ACTION. IT'S AS EASY AS 1-2-3!
1. GO TO AND CLICK "BUY NOW" FOR INDIVIDUAL GAME TICKETS
2. SELECT DESIRED GAME FROM CALENDAR
3. ENTER THE CODE "WEST5323" IN THE COUPON CODE TEXT BOX AND CLICK "APPLY."ONCE APPLIED, THE DISCOUNTED PRICE WILL BE REFLECTED BY THE PRICES SHOWN ON SCREEN.*Discount and seats subject to availability FOR ADDITIONAL QUESTIONS ABOUT ANY OF THE ABOVE INFORMATION,CALL KELSEY HOWARD AT 817-273-5163 OR EMAIL KHOWARD@TEXASRANGERS.COM.