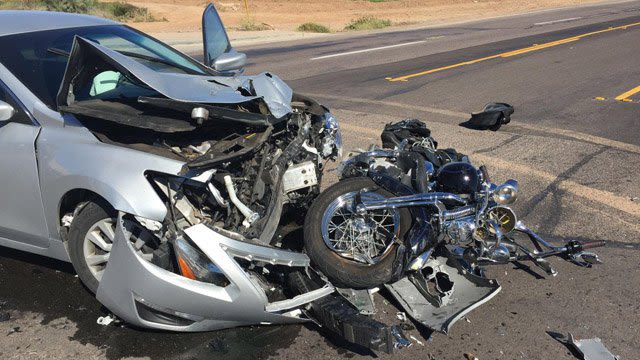 Motorcycle Safety Awareness: Look Twice
May 28, 2020
May is National Motorcycle Safety Month. At the official start of the summer travel season, it's a great time to take a look at some relevant motorcycle crash statistics.
Motorcyclists are highly vulnerable in a vehicle crash. The negligence of other drivers can lead to serious injury, dismemberment or even death for motorcycle riders. Motorcycle riders and their passengers are five times more likely than occupants of a passenger vehicle to be injured in a wreck. The exposed nature of being on a motorcycle on the open road means that riders are susceptible to injury and death. Often, drivers of passenger vehicles don't see motorcycle riders until the moment just before the impact occurs.
According to the National Safety Council, in 2017, 5,172 motorcycle riders and passengers died in crashes. Fatalities involving motorcycle riders and their passengers have more than doubled since 1997.
Motorcyclists are disproportionally represented among fatal vehicle crashes, according to the NSC.
Motorcycles make up 3 percent of all registered vehicles and only .6 percent of all vehicle miles traveled in the U.S.

Motorcyclists accounted for 14 percent of all traffic fatalities in 2017

28 percent of riders who died in a motorcycle crash in 2017 were alcohol-impaired

91 percent of riders who died in a motorcycle crash in 2017 were male

Riders age 50 and older represented 36 percent of all motorcycle fatalities in 2017
Finally, according to the National Highway Traffic Safety Administration, more than 80 percent of all motorcycle crashes resulted in injury or death. Compare that to a vehicle crash where it's very possible to walk away with no injuries, and it's easy to see that motorcycles require a high level of care to operate safely.
Motorcyle riders are not usually at fault in a crash. Often it's the other vehicle that fails to yield or fails to spot the motorcycle until it's too late. That being said, it's critically important that motorcycle riders ride safely to protect themselves. When operating a motorcycle, adhere to these best practices for safe riding:
Motorcyclists must abide by the same traffic rules and regulations as other motorists. Before taking your motorcycle on a public road, become familiar with traffic rules and regulations and any special requirements for motorcycle riders.

Riding with a passenger requires more skill than riding solo. We recommend you delay bringing any passenger along until you have considerable solo riding time and are ready to take on the responsibility of carrying a passenger.

Obtain your learner's permit or motorcycle endorsement on your driver's license before you venture onto the streets. You will be required to display the knowledge and skill needed to operate a motorcycle safely before being issued a motorcycle operator's license.

Never drink and ride. Alcohol slows reflexes and greatly limits your ability to operate a motorcycle. Even a very small amount of alcohol can reduce your ability to operate a motorcycle safely.
Despite preventative actions taken by motorcyclists, wrecks still occur, and the losses can be catastrophic, especially when you consider lost wages for time off work and high medical bills. Injuries can range from those requiring surgery, sutures and staples to severe burns, traumatic brain injury and mental and emotional distress. These injuries are expensive to treat and difficult to heal from.
Have you or a loved one been injured in a motorcycle crash? If someone else's negligence led to an injury or loss of life, you deserve compensation. Call us to discuss your case. We are here to serve you.