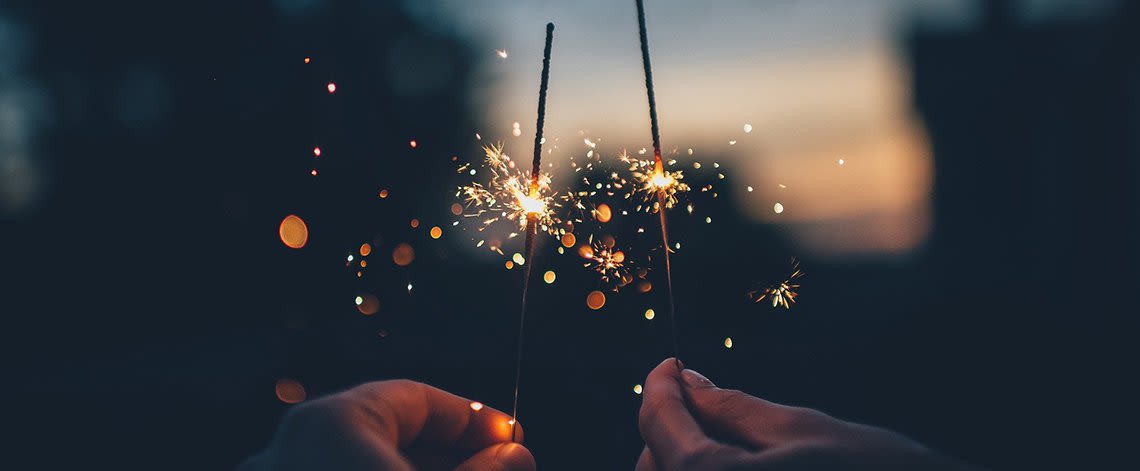 Stay Injury Free this July 4
June 29, 2020
Independence Day is quickly approaching, and for many of us, this will mean muted at-home celebrations this year because of the ongoing coronavirus pandemic. From cookouts to alcohol use to DIY fireworks, there are plenty of ways to get hurt this 4th of July. July 4th is one of the busiest days of the year for hospital emergency rooms. So, celebrate and enjoy the holiday, but don't let your guard down. Here are some of the most common injuries centered around Independence Day and tips for avoiding them.
Car Crashes – Car crashes are the most common cause of a holiday fatality, and July 4th typically brings an increase in deaths and injuries from car crashes. According to the National Highway Traffic Safety Association (NHTSA), July 4 is the deadliest driving day of the year. Alcohol plays a big part in crashes and fatalities as people take time off from work and spend time relaxing, celebrating and drinking. In fact, according to NHTSA, more people die in alcohol-related crashes in July than in any other month.
Tip: Practice basic traffic safety by observing the speed limit and wearing a seat belt. Designate a driver or call an Uber to get you home if you over-indulge.
Cooking Fires – Defective grill tanks, user error and even negligence can all play a part in causing injuries. The National Fire Protection Organization reports that July is the peak month for grill fires with 18 percent of fire occurring this month.
Tip: Prior to your cookout, inspect the gas lines and grill structure for any line breaks and flaws. Leaks and breaks in the grill and / or gas line were a leading cause of fires. Clean your grill. The NFPO reports that in 28 percent of grill-related structure fires, the grill had not been cleaned. Be the one to operate the grill to protect yourself from liability should a guest be injured.
Pool Injuries – You are liable for injuries to guests who visit and use your pool. Every year, homeowners face negligence claims and lawsuits arising from things like faulty stairs, faulty equipment, dilapidated structures and other interactions with pools. Homeowners have a duty to their social guests to not cause them harm while on property. During summer months, homeowners must be especially careful to protect their guests from common injuries and to secure their property from curious children. Check out our premises liability article pertaining to pool injuries here.
Tip: Make note of any potential hazards on your property and repair or address them before you have guests. If a repair cannot be made, make it clear that the hazard exists and remind your guests of the hazard periodically throughout their visit.
Fireworks Injuries – Fireworks are a common cause of injury every year, but with many local fireworks celebrations canceled, individuals may turn to DIY fireworks displays. The U.S. Consumer Products Safety Commission reports that around 200 people head to the emergency room every day because of a fireworks related accident in the month around July 4. Burns are the most obvious injury but eye injuries and hearing loss are other common injuries. Fireworks can cause severe burns as temperatures reach up to. 2,000 degrees. Even sparklers can be dangerous (and should not be given to children). Fireworks injuries are one of the most common causes of emergency room visits in July, and many of the victims are children who were standing too close to a malfunctioning firework.
Tip: If you are lighting fireworks at home, designate one or two adults to be in charge. Don't give fireworks to children. Do not relight a dud firework. Keep a water hose or bucket of water close by. Wear eye protection and hearing protection. Do not consume alcohol while lighting fireworks. Opt for a professional display if possible.
July 4th celebrations should not be dampened by injuries, pain and suffering. Take steps to protect yourself from premises liability lawsuits and be aware of hazards brought on by DIY fireworks displays, faulty grilling and pool-related injuries. Have a question about a premises liability injury? Talk to us. We offer free initial consultations to assess your case and help you determine whether to pursue damages.